DSV Adams Challenge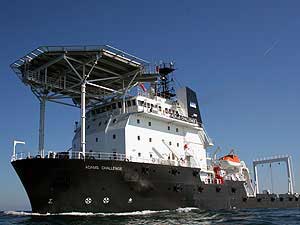 Descriptions:
The vessel is a Dynamically Positioned Diesel electric powered multi role offshore support vessel with rapid and efficient handling characteristics, capable of supporting a wide range of offshore support activities, including diving support, ROV support, survey support, cable lay, offshore construction and maintenance.
The vessel is of all welded mild steel construction with flared bulbous bow, transom stern and round bilge hull form, a double skinned moon pool is arranged near mid-ship open from deck to bottom.
Propulsion is provided by twin Azimuth propeller units AFT, each driven by an electric motor transverse thrust is provided by twin azimuth units AFT and by three transverse thrusters forward, one of which is retractable azimuth unit.
Accommodation is arranged forward in the superstructure and deckhouses above the forecastle deck, surmounted by a maximum all round vision bridge. A helideck conforming to CAA CAP437 guidelines and to suit an Aerospatiale AS332L helicopter is arranged above and forward of the bridge.
The vessel is equipped with a 12 man, 300m x 3man bell, Saturation Diving System, class approved to ABS requirements and is maintained under Class and IMCA (International Marine Contractors Association), and the vessel is also fitted with Air Diving capability.
Vessel Brief Specification.
| | |
| --- | --- |
| Built: | Astilleros Balenciaga S.A Zumaia, Spain |
| Year of Build: | 2009 |
| Flag State: | United Kingdom |
| Port of Registry: | Aberdeen |
| Length: | Overall 85M |
| Breadth: | 18M |
| Clear Deck: | 544 m2 (Excluding Fwd Mez Deck) |
| Deck Crane: | 100 ton at 8M Heave Compensated |
| Accommodation: | 98 persons (including crew) |
| Notation: | ABS +A1, Circle E, +AMS, +DPS2 |

For further information please contact rrajeev@adamsoffshorewll.net

Previous