DPSV Adams Aquanaut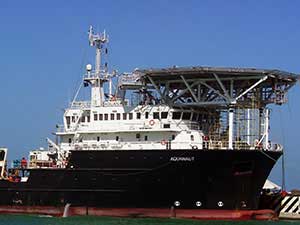 Descriptions:
The Vessel is a Dynamically Positioned multi role offshore support vessel and for this duty has rapid efficient handling characteristics. She is suitable for offshore support activities, including diving support, ROV support, Survey support, Cable Lay and offshore construction and maintenance.
The Vessel is of all welded milk steel construction with a flared bulbous bow, transom type stern and round bilge hull form. A moon pool (6.0M x 4.8M) is provided near mid-ships in the main deck and equipped with a bottom closure door and top closure plate that when fitted will maintain the uniform deck loading. The moon pool is double skinned.
Propulsion is by twin Azimuth propeller units at the stern, each driven by a marine diesel engine. Transverse thrust is provided by the twin Azimuth Units and three transverse thrusters units installed at the bow.
Accommodation is arranged in the forward superstructure and in deckhouse above the forecastle deck, surmounted by a maximum all round Vision Bridge. The vessel is equipped with a dual redundant Dynamic Positioning system configured to and suitable for the support activities.
Additional to standard radio facilities, a dedicated 24/7 internet ad VOIP international telephone access network is provided by a TELENOR KU-BAND VSAT terminal offering 128 KBPS data throughput. Bandwidth can be increased up to 512 KBPS based on charterer requirements.
Vessel Brief Specification.
| | |
| --- | --- |
| Built: | Astilleros Balenciaga S.A Zumaia, Spain |
| Year of Build: | 2004 |
| Flag State: | Commonwealth of the Bahamas |
| Port of Registry: | Nassau |
| Length: | Overall 73.3M |
| Breadth: | 16M |
| Clear Deck: | 600 m2 |
| Deck Crane: | 45 ton at 6.5M |
| Accommodation: | 82 persons (including crew) |
| Notation: | ABS +A1, Circle E, +AMS, +DPS2 |

For further info please contact rrajeev@adamsoffshorewll.net

Previous