Welcome to ADAMS Offshore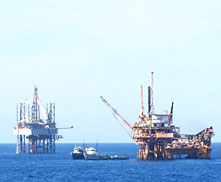 Having Pioneered offshore supply and dive support in the Middle East since 1964, the company as part of Khalifa A. Algosaibi diving and marine services (ADAMS), has since 1995 been a global player in offshore diving and subsea operational support with its state of the art Dynamic Positioning (DP) fleet.
As part of improving core competitiveness and operational efficiency, the DP fleet management has now been restructured to operate as ADAMS Offshore Services W.L.L based in Bahrain.
The fleet was further enhanced in 2009 when the company took delivery of their new-build DPII Dive Support Vessel, the "ADAMS Challenge" in Q1 2009. Q4 2009 has heralded the inclusion of Rem Poseidon and in Q4 2013 the ADAMS Nomad is expected to join the fleet.
Our Vision
Association


Since 1995 we have expanded operations from the Middle East to Europe, Australia, Gulf of Mexico, Far East and South East Asia.

Witness to our professional integrity. ADAMS world wide clients list includes some of the most prestigious names in the industry.

We look forward to employing DP experienced and qualified personnel in all ranks. interested candidates please apply.